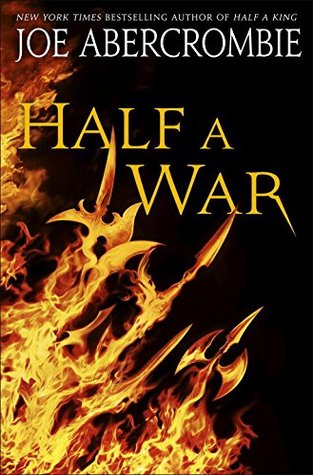 Half a War
By: Joe Abercrombie
Published: July 16, 2015 by Harper Voyager
Format: eBook
Pages: 352
Genres: Fantasy, Young Adult
Rating: ★★★★☆


Amazon | Book Depository
Summary:
Words are weapons. Princess Skara has seen all she loved made blood and ashes. She is left with only words. But the right words can be as deadly as any blade. She must conquer her fears and sharpen her wits to a lethal edge if she is to reclaim her birthright.
Only half a war is fought with swords. The deep-cunning Father Yarvi has walked a long road from crippled slave to king's minister. He has made allies of old foes and stitched together an uneasy peace. But now the ruthless Grandmother Wexen has raised the greatest army since the elves made war on God, and put Bright Yilling at its head – a man who worships no god but Death.
Sometimes one must fight evil with evil. Some – like Thorn Bathu and the sword-bearer Raith – are born to fight, perhaps to die. Others – like Brand the smith and Koll the wood-carver – would rather stand in the light. But when Mother War spreads her iron wings, she may cast the whole Shattered Sea into darkness.
---
My Thoughts
Half a War had all of the hallmarks I've come to expect from Joe Abercrombie's books: dark humour, incredible battle scenes, lots of plot twists, and plenty of strong female characters.
There were three new POV characters: Koll, the son of a slave freed by Yarvi in a previous book; Princess Skara of Throvenland; and Raith, Grom-gil-Gorm's sword and cup bearer. In Half the World, the change in narration from Yarvi to Brand and Thorn wasn't much of an issue, because Father Yarvi was still present much of the time. However, in Half a War, I was disappointed by the fact that Thorn and Brand had such minor roles, because I became so invested in them while reading Half the World. Of the three new characters, my favourite was Skara, who was pretty much Thorn's opposite in every way. Thorn was a warrior who pretended to be a lady and used violence to settle arguments, whereas Skara put on armour like it was a costume and her weapon of choice was words, not steel.

Abercrombie really is a master storyteller. Having multiple POVs can sometimes feel disjointed, but he has this way of connecting the ending of one chapter to the beginning of the next which I absolutely loved. For instance, one chapter would end with a character admiring how strong and fearless Skara was, and the next chapter would open with Skara freaking out internally.
While I enjoyed the plot of Half a War, I didn't rate it as highly as the previous instalments in the series because I wasn't as invested in the characters. They were still well-developed and interesting, but they just weren't up to Abercrombie's usual standards.
Overall, Half a War was a pretty satisfying conclusion to a great series. While The Shattered Sea trilogy is categorized as young adult, I think it would appeal to all fantasy lovers, and highly recommend it!
My Rating