I have an embarrassingly large number of books on my to-read list for the upcoming year, but these are the ones I'm absolutely dying to read. Meaning, I either have them entered into my calendar, pre-ordered, and/or gaze longingly at their covers, dreaming of the day I get to read them.
I split this up into two sections. The first consists of new series and standalones, while the second is ongoing series.
---
Part 1. Standalones and New Series
Release Date: January 10, 2017
Robin Hobb gave it five stars on goodreads, so that alone is enough to make me want to read it. She called it, "an extraordinary retelling of a very old tale . . . A Russian setting adds unfamiliar spice to the story of a young woman who does not rebel against the limits of her role in her culture so much as transcend them. The Bear and the Nightingale is a wonderfully layered novel of family and the harsh wonders of deep winter magic."
Release Date: January 31, 2017
To be perfectly honest, before writing this post I hadn't even read a summary of the book; just seeing it all over bookstagram made me want to read it! It's about two sisters who run away from home to seek out Caraval, an elaborate performance in which the audience participates. However, one of the sisters is kidnapped by Caraval's organizer, and becomes the focus of this year's game – whoever finds her first is the winner.
Release Date: February 7, 2017
I will read anything and everything Neil Gaiman writes, but the fact that he's writing a book about mythology (which is one of my favourite things ever) makes it even better!
Release Date: March 7, 2017
I absolutely loved McClellan's Powder Mage trilogy (a flintlock fantasy series that's somewhat based on the French Revolution), so I can't wait to get back into that world.
Release Date: March 28, 2017
I've been waiting for a new Laini Taylor book since I finished  her Daughter of Smoke and Bone trilogy a couple of years ago.
It's about the aftermath of a war between gods and men, a mysterious city stripped of its name, a mythic hero with blood on his hands, a young librarian with a singular dream, a girl every bit as perilous as she is imperiled
alchemy and blood candy, nightmares and godspawn, moths and monsters, friendship and treachery, love and carnage
Release Date: April 4, 2017
It seems to take most adult fantasy authors ages to come out with new instalments, but Mark Lawrence keeps churning out amazing books each year! Unlike his Broken Empire and Red Queen's War trilogies, his new series is set in a whole new world.
Red Sister is about a girl who is falsely accused of murder at the age of eight and is sent to a convent to be trained as an assasin by killer nuns. Unlike his Broken Empire and Red Queen's War trilogies, his new series is set in a whole new world.
---
Pt. 2: Ongoing Series
2017 is going to be a sad year for me, because a number of my favourite series are ending! I really hope some of the new series I posted about above will help console me.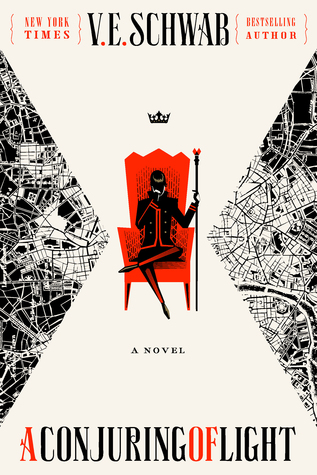 Release Date: February 21, 2017
Ever since that cliffhanger at the end of A Gathering of Shadows, I've been anxiously counting down the days until this book's release date. I'm hoping for a happy ending to this series, but something tells me that that isn't V.E. Schwab's way of doing things…
Release Date: March 7, 2017
Even though I was lucky enough to read an eARC of this, I'm need everyone else to read it, so that I finally have people to talk about it with! It was so incredible.
Release Date: April 4, 2017
Sleeping Giants was one of my favourite debuts of 2016. These books are kind of like The Illuminae Files for adults; they're not told in a typical format, but through a series of journal entries, interviews, etc.

Release Date: May 2, 2017
I'm excited for this book partly because the way A Court of Mist and Fury ended was just plain cruel, and partly because I'm really happy that this will be the end of Feyre's storyline. However, even though I'm not so fond of her, I love the world the series is set in, so I have high hopes for the second trilogy.

Release Date: May 16, 2017
Robin Hobb is one of my favourite authors. Whenever I pick up one of her books, I'm simultaneously excited and dreading what she's going to do to my poor heart. With a title like Assassin's Fate, things are bound to be painful…but I'm sure I'll enjoy every minute of that pain!

Release Date: May 16, 2017
This is, without a doubt, my most highly anticipated book this year! I never actually thought there would be a fifth book in the series, despite there being six books listed on goodreads, since the last one was published in 2010. I'm so glad I was wrong, though, because The Queen's Thief is one of my favourite series!

Release Date: May 23, 2017
Lady Midnight was another book that ended with an awful cliffhanger, so I've been dying to get my hands on Lord of Shadows ever since I finished it (which was the same day it came out…)!